A Registered Nurse since 1985 in Rural Hospitals. I'm Presently working as Certified Diabetes Educator in Strathmore Alberta. I provide Integrative Chakra Therapy, Flower Readings and Mediumship as a private practice. I use Holistic Nursing Principles every day in my work. I advocate for nurses and clients as President of my Local Chapter of United Nurses of Alberta, and as a member of Occupational Health and Safety and Professional Responsibility Committees.
As the President of the CHNA, I look greatly forward to providing advocacy for Nurses providing Holistic Care and educating professionals and general public about the benefits of Healing Modalities available now and in Canada's future'.
A practicing RN for over 30 years, Kate is also certified in Advanced Integrative Energy Healing™, and taught Biofield Science at Langara College in Vancouver.
Establishing Synapse Integral Health Inc. in 2015, Kate helps her clients tune into their energy, strengthen boundaries, and develop ways to ground, center, and align with their true Self. Her MA in Integral Health focused on integrating science and consciousness theory in context to self-care. This resulted in the creation of The Conscious Nurse Project, a mentored on-line workshop for nurses to learn to develop individualized holistic self-care plans for themselves.
Kate believes strongly in the role the CHNA plays in supporting holistic nursing practice in Canada.
Megan Knapp, BHK, BSN, RN
Treasurer
Meg is a Registered Nurse in Saskatchewan. She first learned about holistic approaches to lifestyle and health care while acquiring her Bachelor's of Human Kinetics at the University of British Columbia in 2006. After pursuing massage and gerontology studies, she completed her Bachelors of Science in Nursing from the University of Saskatchewan in 2015.
She worked as a Community Health Nurse with Health Canada before taking an extended maternity leave, in which she had 3 babies. Meg recently completed the Comprehensive Holistic Nurse & Nurse Coaching program from the CIINDE. She works with new moms, and also mentors nurses in the process of navigating recognition of practice applications with their jurisdictional bodies for their holistic nurse practices. She lives and homesteads in rural Saskatchewan with her husband and their 4 kids.
A life-long learner of knowledge from the mystical to the practical and everything else in between. A true lover of philosophy for as the saying goes "an unexamined life is not worth living." Understanding the Herstory of our world is as fundamentally important as understanding our history, but a true understanding comes from learning Ourstory. True patient-centered care begins with asking, "What is your story?"
Hello, my name is Danielle, and I am a Registered Nurse in Newfoundland and Labrador. In 2004, I graduated from Dalhousie University with a double major in Psychology and Philosophy. With an interest in Psychology, a person's overall well-being and mental health, I continued studies in Psychology and completed an honours degree in Psychology at Memorial University. This path led to working on a master's degree in Humanities; however, illness and a lack of well-being led me to quitting my master's program and traveling to South Korea to teach English. While in Asia, I developed interest in Ayurveda healing, energy healing, crystal therapy and chakra therapy. Since returning to Canada in 2010, I have completed the Bachelor of Nursing program from Memorial University and obtained the certificate for Basic and Advanced Foot Care Management. In 2019, I opened my independent practice in foot care as a mobile foot care nurse. Since the pandemic struck and changed our lives as we know it, I have been working as a Psychiatric Nurse in the Mental Health and Addictions Program. I hope to continue private practice soon and am very excited to be taking the Comprehensive Holistic Nurse & Coaching Certificate Program as offered by the CIINDE. Namasté.
Kimberly Derkach, RN, BScN, earned her degree in Nursing from the University of Saskatchewan, where she is now a Nursing faculty member and Instructor. Kim's nursing experience has been specialized in the areas of neuroscience, neurosurgery, education, special needs, pediatrics, caregiving, geriatrics, chronic care, and mental health and wellness. Through both personal health challenges and her nursing experience, Kim has developed a passion for holistic therapies as they have completely enhanced her life. She learned to heal her physical and mental health by balancing her work life, spending time in nature, nourishing her body and implementing daily breath, meditation, mindfulness, gratitude and faith based practices. Kim is also a mental health advocate with a focus on grief, loss, and chronic disease. She believes that in order for true healing to occur one must consider all levels of healing; physical, mental, emotional, and spiritual. At times when one aspect is out of balance all areas suffer. From this integrated approach, she assists those who are suffering develop compassion, build resiliency and embrace their story. As a Nurse Kim recognizes that every illness has a story, but that we also always have the opportunity to rewrite our story. Together we can support each other as we grow and heal. Community is powerful medicine.
Sherry Hole RN, BN, MN graduated in 1991 with a Diploma in Nursing. She later returned to UNB graduating with a Bachelor Degree and a Master of Nursing, specializing in nursing education and adult learning. Sherry also has a Certificate in Mental Health Nursing and a Diploma in University Teaching. She has over 30 years of nursing, teaching, and administrative experience with a keen interest in teaching and learning, mental health and wellness, and the nursing profession as a whole. To support her passion for health and wellness and the art of nurse coaching, Sherry studied holistic nursing and nurse coaching for several years before becoming a board-certified Holistic Nurse (HN-BC) and a Board-Certified Health & Wellness Nurse Coach (HWNC-BC) through the American Holistic Nurses Credentialing Corporation. Her areas of expertise include administration, education, geriatrics, chronic care, psychiatry, and mental health and wellness.
Sherry gained an appreciation for the power of self-care when she was introduced to complementary and holistic approaches such as mindfulness, breathwork, yoga, and meditation to assist her in managing her own personal health challenges. Sherry believes in honoring each individual's unique experience with illness and health and believes that everyone has the innate ability and inner wisdom to be ambassadors of their own health and healing. She is grateful for the opportunity to continue serving on the Executive Board of CHNA, which she has done in varying capacities since 2014.
Sherry is also the founder and president of The Canadian Institute of Integrative Nursing Development & Education Ltd. (TheCIINDE-pronounced The Kind). TheCIINDE offers continuing education and a supportive community for nurses (and, other healthcare professionals) interested in learning how they can incorporate a holistic mindset and approach into both their personal and professional lives.
In her spare time, Sherry enjoys being with family and friends, spending time in nature, and reading.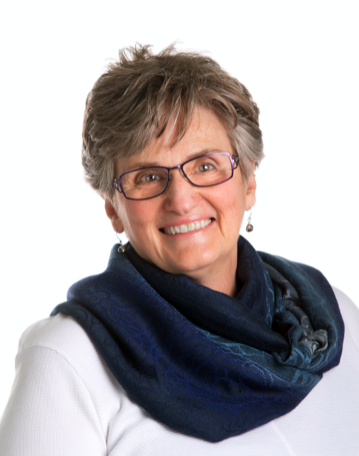 Linda Yetman RN, PhD
Board Member
Linda is a Registered Nurse and Transformational Leadership Coach who spent the majority of her 40 + years in nursing caring for persons, and their families, with neurological disorders and injuries. Her professional career includes academic and practice-oriented credentialing in nursing and coaching.  Entering the coaching profession was a natural evolution for Linda to help individuals adapt to and cope with change.
Linda has worked in a variety of nursing roles spanning practice, management, academia and research. Throughout her career, she experienced as well as witnessed the impact of the inability to give the kind of care one envisions when entering nursing. Unfortunately, the systems where the majority of care delivery takes place often do not offer the type of support needed for nurses to do the work they do every shift, every day. Working in unsupportive work environments leads to increased stress, anxiety, fatigue and eventually burnout, when left unaddressed. While patient and family care are impacted, so is the nurse's personal health and well-being and relationships with family and friends.
Linda now combines nursing and coaching practices in her client work with nurses to support them to manage chronic stress and exhaustion to find ways to achieve a work-live balance. Her individualized client coaching services draw upon advanced practice nursing, solution-focused, depth psychology, narrative, and health coaching perspectives. Linda believes when a client is seeking to understand the root of a problem, desiring to change that problematic issue, breakthroughs may need to be sought from more than one source for true change to occur.
Linda provides one-on-one coaching as well as with small groups. Linda's coaching services include education and health coaching related to lifestyle management, stress and anxiety reduction, building resilience and personal empowerment. For those nurses interested in deep healing work, Linda has developed a powerful transformational process to identify what one needs for optimum self-care practices: The Nurse Heroine's Journey of Transformation.
Linda's website is: lindayetmancoaching.com 
Susan Hagar is a Registered Nurse, Founder and CEO of Nurse On Board. In 2015, Susan established a unique service where individuals and families can retain a highly experienced RN to serve as a personal guide through the complexities of health care. As the largest body of regulated health professionals, Susan sees veteran nurses as the solution to the gaps in care that Canadians face. Her knowledge base is the result of 36 years of nursing in the areas of general surgery, urology, nephrology, cardiology, critical care, clinical research, and integrative medicine.
Susan established Independent Practice Nurses Ottawa in 2015, and as her business success continues, she is now the Board President of the Canadian Association of Self-Employed RNs. Her spiritual journey provides the foundation of her success, enhancing the most important relationship of all, the one with herself. This has led her to be a leader in business and to be the Board President of Unity Spiritual Centre Ottawa. Through meaningful relationships with self-employed Registered Nurses, Susan supports her colleagues across the country to become entrepreneurs, as a practical step toward changing the face of healthcare in Canada, and greater recognition of the extensive scope of practice of Registered Nurses.