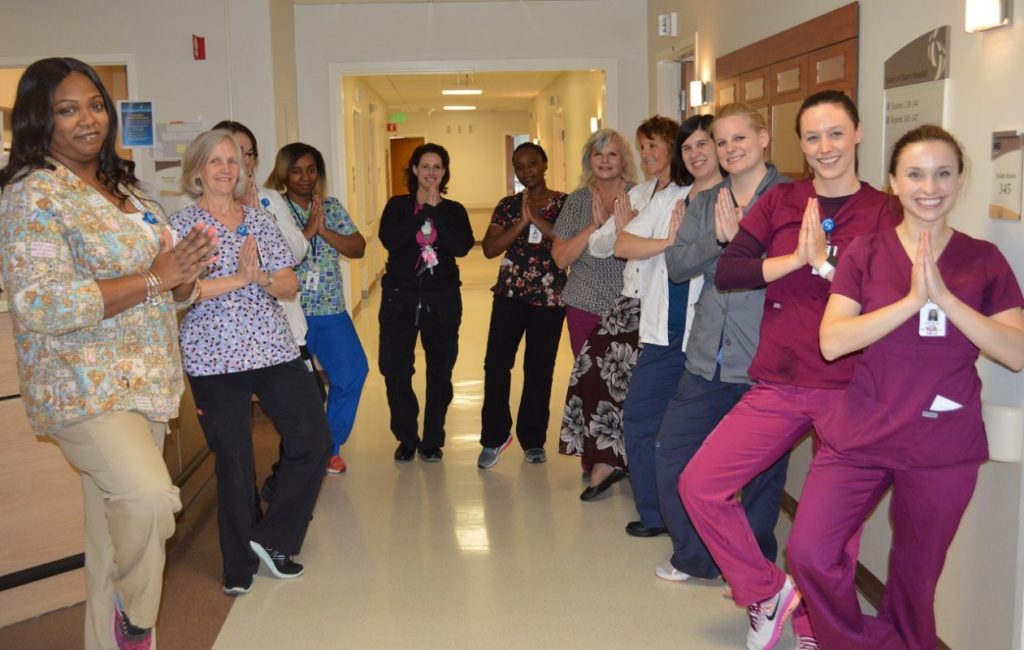 Laurie Laugeman has seen plenty of changes in the workplace during a 34-year nursing career in places that include private residences, nursing homes, Buffalo Hospice and, for the last four years, the medical telemetry and neurological unit at Sisters of Charity Hospital. One of the most welcome is a growing willingness among her colleagues to embrace a mind-body-spirit approach to health care.
"Most nurses are there because they have that calling, that desire to help and be there for people. I think holistic nursing helps support that calling," said Laugeman, leader of the Western New York chapter of the American Holistic Nurses Association.
The 36-year-old association will for the first time hold its annual conference in Western New York when its members gather in June at the Conference Center Niagara Falls. Laugeman is part of the planning committee.
Meetings of the seven-year-old regional chapter take place at 7 p.m. the fourth Tuesday of most months in the Kenmore Mercy Hospital Community Room. The meeting on Jan. 23 will focus on mindfulness and meditation; the next, on Feb. 27, will focus on the importance of sleep on wellness. Meetings are free and open to all. For more information, visit ahnawny.nursingnetwork.com or email ahnawnychapter@gmail.com.
Laugeman, 57, grew up and still lives in Riverside. She holds a bachelor's in nursing from Niagara University. She and her husband, Bill, a retired government worker, have four children: Sarah, Julia, William and Phillip; and three grandchildren.
Q. Have you noticed a change in attitude about how the term "holistic health" is viewed today than a quarter century ago?
I do remember than in the '80s and '90s, we started to talk more about integrated and complementary therapies. We were thinking at that time about even things like chiropractic care as something we wouldn't do. Using vitamins, herbs, homeopathy, reflexology, even massage, healing touch, were around but we kept quiet about it. Now, all of that is out in the open and many people are using numerous modalities for their wellness. In that sense, the medical community is open to it, and I know the Holistic Nurses Association is looking at evidence-based research. I think the National Institutes of Health is also looking at complementary, integrated therapies. Many people are choosing them because they work.
I think we're still trying to decipher what we mean when we say "holistic." Some people think it's about herbs and vitamins, but some people might think holistic is treating the whole person and whole patient. The word has many definitions in terms of how the public views it. If someone is treating the mind, body, spirit in motion, I see that as holistic.
As a nurse, being holistic is how I act, interact and how all nurses create their personal practice. I want to be in tune and connect with my patients. I think that's what many nurses do. I think all nurses are holistic nurses. Being involved in the association, you can support that philosophy more.
Q. Describe your job.
Sister's Hospital has a professional practice model of relationship-based care. It's about three important relationships: how we care for ourselves, how we care for our colleagues, and how we care for our patients and families. It's based on the philosophy that when we care for ourselves, we can better care for others. Holistic nursing focuses on how you can take care of yourself to be the best for your patients. In nursing, we hear many things about burnout and compassion fatigue. Self-care is the ticket to combat that and become more resilient.
Q. How do you best take care of yourself based on your involvement with the Holistic Nurses Association?
As my children were growing up, I took a great interest in learning about complementary therapies such as herbs, vitamins, nutrition, homeopathy.
Q. What topics have other meetings tackled?
Laughter Yoga, nutrition, setting goals, intention, healing touch. We try to learn self-care activities we can use ourselves, and maybe some modalities we can use with our patients. There are trends. Aromatherapy can help people relax, help with nausea. Guided imagery, light massage and gratitude can help.
Q. What else does the local chapter do?
We also participate in health fairs. We are looking at the possibility of branching out to do some community work. We're pursuing providing healing touch education for nurses. We'd like to create a self-care program for health. We're looking to create some opportunities for health care workers to rejuvenate with joyful activities.
Q. What do your colleagues at Sisters think?
They support me when it comes to attending regional conferences and that has provided information I can share with them. Holistic nursing and relationship-based care are a really nice match.
Q. Where do association members work?
McAuley Residence, Kenmore Mercy, Sisters, the VA, ECMC, Buffalo General. We do have some educators from D'Youville College. We keep getting more and more interest.
Q. Are there things you've chosen to do for your own self -care that some of your colleagues and those in the chapter have started to pick up on?
I try to be active, choose a healthy diet and get my rest, have good interactions with my family and find time for fun and hobbies I enjoy. Life can be so busy, so another thing I do is manage my time. I always say I'm a work in progress…
I focus on trying to be really mindful through the day. Things can change. Patient situations can change. Sometimes, the hospital can be stressful, but if we can take a few minutes and be mindful with patients and help them focus on what is working, it can take the edge off something that's not working. The more mindful we are, the more we're apt to respond to situations in a positive way. With deep breaths, we can be mindful and focus on what we're doing.
Another thing I work on is washing my hands. I'm providing great infection control and helping myself. I like to take that minute to feel my feet on the ground, take a few breaths and become centered again.
Q. You keep a gratitude journal? What's that?
I read about it many years ago from Sarah Ban Breathnach, who wrote a book, "Simple Abundance: A Daybook of Comfort and Joy." It can be as simple as writing about five things you're grateful for every night before you go to bed. In 30 days, you'll notice a difference. When you're grateful, you tend to be able to see the positive when a situation comes up. I'm grateful for my family, my health, my career, my job, my colleagues. I'm thankful that the pharmacy is always there when I have a question. Some days, I'm grateful I got a good parking spot.
Gratitude makes everything OK. It helps us focus on what's working and takes away negativity. I tend to be a very positive person and believe our attitude is contagious.